Sesame Street: Fairy Alphabet, circa 1970

Muslim indoctrination in USA TODAY, this is the actual headline:
Say 'Eid Mubarak' today (and ignore Bill O'Reilly)
Muslim indoctrination in the Detroit News:
Muslims celebrate Festival of Sacrifice
(In Islam celebrants sacrifice YOU, filthy kuffar)
Muslim indoctrination, local Sioux Falls, SD paper:
Local Muslims celebrate festival of sacrifice today
Muslim indoctrination in The Washington Post:
A Hollywood Screenwriter Goes to Mecca
GWB's down with EiD!

Oklahoma City Muslims observing Eid ul-Adha
Well ain't that special. The wind sweeping down the plains suddenly stinks.
Israel delays their traditional suicidal Eid gifting
Hezbollah: They are proud by the "courage and honesty "of Christian opposition Leader Michel Aoun's visit to Syria
Abbassholes vs Hamassholes over the Haj
Abassholes supposedly torturing Hamassholes
"They shouted 'You're Hamas! Tell us what you're up to!' as they were hitting me," one man recounted to Reuters of an ordeal last month in a Palestinian prison in Hebron. He spoke, too, of being forced to hang or stand for hours in "stress positions."

LOL! Lemme tell ya, the criteria for defining "torture" sure has gone downhill these days. They called me names, hit me, and made me stand in uncomfortable positions! Yahuh. And? When I was a kid, that was called a typical Tuesday at Catholic School.
World Bank: Gaza banks on brink of collapse
Iran urges OIC emergency session on Gaza
EU intends to cooperate actively with OIC countries
OIC-backed UN resolution on religious hatred deplored
Malaysia wants OIC countries to reconsider gold Dinar for trade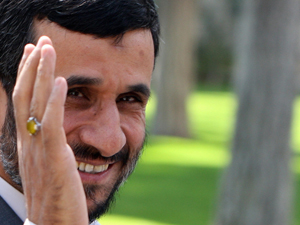 Iranian militants killed 16 kidnapped police
Iran and Ecuador sign 12 agreements
Head of nuclear watchdog calls efforts against Iran 'a failure'
Oil firm sidesteps sanctions on Iran
Video: More Than 160 US, NATO Vehicles Burn in Pakistan
Saudi Arabia, UAE to offer $2bn loan to Pakistan
U of Leeds and King Saud U announce nanotech partnership
The Saudis' New Man in Congress

CAIR Thanks Fox for 'Simpsons' Episode Challenging Islamophobia
Turkish Police: Culture of Impunity

Ambitions for 2009 UN climate pact fade in Poznan

UN defends carbon scheme after U.S. criticism
Sarkozy praises China amid uproar over Dalai Lama
SAfrica drops planned nuclear plant
Namibia has plenty of uranium to enable it to go nuclear

Dangerous trek to Israel for African refugees
Russia busy "renationalizing" everything in sight

Argentine President Heads To Russia Amid Talk Of Lukoil Buy In Repsol
Abu Dhabi, Gazprom Ink Dutch Gas Storage 'Partnership'
Gazprom, Serbia to sign energy deal by end Dec
Russia Allocates $2 Billion on New Arms, Countering US Shield
Russia backing Persian Pipeline

Iran Presses Europe with Gas
Turkey:
Shall we carry on accession talks with the EU?
EU does not consider Iranian Gas as Resource for Nabucco Pipeline
Strategic Command Chief Urges Quick Nuclear Weapons Modernization
World leaders gather in bid to impose a ban on nuclear weapons
GOP appears in deep trouble in California
US Is Losing Global Cyberwar, Commission Says
Tribune Considering Filing for Bankruptcy Protection, WSJ Says
Isn't it just a formality? They've been morally bankrupt for decades.
OBAMA: Auto Industry Collapse Is Not an Option
Now, I want you to take a good long moment and think of all the reasons why they would drag out the "rescue" of the automakers as they are doing instead of bailing them out instamatically.... please post your thoughts in the comments, thanks.
Oil Halts Six Days of Declines on Possible OPEC Cut, Obama Plan
Castro wants to meet Obama
Putin makes warm overtures to Obama

Obama chides Russia but promises new relations
Obama team member linked to Hindutva fascist movement
Obama Offering No Support For Israel
EU commissioner: We expect Obama enter direct talks with Iran

Without a free market we are simply fascists
Retail sales dropping like a rock
Goldman Shopping Harvard Deal
Oh, Come Let us Abort Him!
Montserrat volcano continues violent explosions

6.2 off East Timor Coast
5.6 in Southern Iran
5.5 in Northern Japan


ABC ~ Jackson 5