November 7, 2008, Minsk:

Woman holds portrait of Stalin

People gathered to mark October Revolution Day, the official public holiday commemorating the

1917 Bolshevik Revolution
November 2008 - somewhere in America
Black Sabbath
Behind The Wall of Sleep
The Federal Reserve is refusing to identify the recipients of almost $2 trillion of emergency loans from American taxpayers or the troubled assets the central bank is accepting as collateral.
Fed Chairman Ben S. Bernanke and Treasury Secretary Henry Paulson said in September they would comply with congressional demands for transparency in a $700 billion bailout of the banking system. Two months later, as the Fed lends far more than that in separate rescue programs that didn't require approval by Congress, Americans have no idea where their money is going or what securities the banks are pledging in return.

``The collateral is not being adequately disclosed, and that's a big problem,'' said Dan Fuss, vice chairman of Boston- based Loomis Sayles & Co., where he co-manages $17 billion in bonds. ``In a liquid market, this wouldn't matter, but we're not. The market is very nervous and very thin.''

Bloomberg News has requested details of the Fed lending under the U.S. Freedom of Information Act and filed a federal lawsuit Nov. 7 seeking to force disclosure.

The Fed made the loans under terms of 11 programs, eight of them created in the past 15 months, in the midst of the biggest financial crisis since the Great Depression.

``It's your money; it's not the Fed's money,'' said billionaire Ted Forstmann, senior partner of Forstmann Little & Co. in New York. ``Of course there should be transparency.''

Like a transvestite dressed up as Marilyn Monroe for Halloween skipping over an exhaust outlet on the sidewalk, the Fed gave us another sneak peak at its balance sheet this morning.
Can you say, $2,000,000,000,000.00?
Gordon Brown calls for new world order to beat recession
Kneel Cash Carry: The Bailouts have just begun
Before we get on with the usual Rude ramblings, please allow us a moment to marvel at the unwavering magnanimity of the American taxpayer. It truly is amazing that, after picking up the $85 billion bar tab on behalf of AIG, the taxpayer's have again agreed to take on more risk, upping the open limit to $150 billion
Venezuela & Russia Form Joint Bank With $4 Billion in Capital

U.S. Special Envoy to OIC Will Discuss Interfaith Issues
In November 2008, a U.S. delegation led by President Bush travels to a U.N.-sponsored conference to promote interfaith dialogue. On November 13, join Sada Cumber, U.S. special envoy to the Organization of the Islamic Conference (OIC), for an online discussion of interfaith issues. The time for this webchat has not yet been determined; please check America.gov. Sada Cumber serves as the U.S. representative to the OIC, seeking to promote improved dialogue and understanding between the United States and Muslim communities around the world. This webchat will take place at http://statedept.connectsolutions.com/conx No registration is needed. Simply choose "Enter as a Guest," type in your preferred screen name and join the discussion.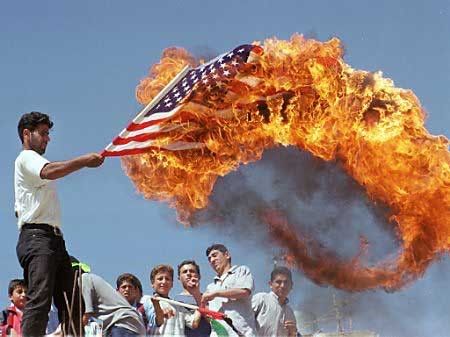 Message from grave: keep killing the infidel

The leader of an al Qaeda front group in Iraq is urging the "new rulers of the White House" and presidential allies from "Christian nations" to remove their forces from Iraq, Afghanistan, and other Muslim regions.
Prime Minister Ehud Olmert on Monday used a Jerusalem memorial ceremony for former prime minister Yitzhak Rabin to reiterate that Israel must be willing to cede parts of the capital
"If we want to keep Israel Jewish and democratic, we need to give up parts of the homeland we have dreamed about for generations and [mentioned] in our prayers, even Arab neighborhoods of Jerusalem, and to return to a 1967 Israel with certain amendments," he said.
Rice to pin down Israeli "concessions" for Obama team
Although the Israeli-Palestinian negotiations have yielded no agreements on core issues, US Secretary of State Condoleezza Rice has decided that a departmental panel will "summarize" their transcripts and hand them over to the Barack Obama team.Rice said at the Middle East Quartet meeting in Egypt Sunday, Nov. 9, that she would hand over to her successor "in private" and then "you won't hear any more from me".
US, EU officials meet with Arabs on Iran
Britain's cowardice in the Congo
U.K. Can't Shift Entire Iraq Force to Afghanistan, General Says
Poland & Lithuania cannot veto EU-Russia talks
Blair hearts Obama, urges him to continue the peaceful destruction of Israel
The CIA reaches out to Obama
Secret order lets U.S. raid militants anywhere
THE GOREACLE: Gore: Internet Revolution That Elected Obama Could Save Earth
The Russian government has refused to confirm a newspaper report that a senior Hamas leader had been invited to Moscow
Al-Hayat's London edition reported last week that the parliamentary speaker of the Hamas government, Ahmad Bahar, had received invitations to Moscow and to the European Parliament in Brussels for early 2009, according to NewsRu, a Russian-language Israeli news site.
Pakistan:
Islamists kill 2 alleged US spies & leave'em in the street as a message
Egypt sends bin Laden's wandering son to Qatar

Queen Mother was 'ghastly bigot', says BBC presenter
The Smithereens

Behind a Wall of Sleep