The Mothers of Invention
You're Probably Wondering Why I'm Here
Just as much as you wonder
If I mean just what I say
Yeah!
That's just how much I question
The social games you play
You're probably wondering
Why I'm here...
And so am I
Hamas fires long-range rockets at Israel
GERMAN MP: Israel must stop issuing military threats against Iran
Is that right?
Top Iranian "cleric": DEATH TO ARROGANT AMERICA!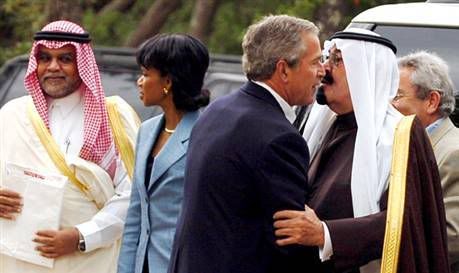 President Bush Fellates Saudi King Abdullah
The 37th Session of the OIC Permanent Finance Committee
Talks yield no new sanctions against Iran's nuclear program
Russian minister says Moscow against new Iran sanctions
Naturally!
IAEA wants to give nuke aid to SYRIA
Naturally!
IRAN: OPEC Is `Very Likely' to Recommend Cut
Obama to 'rethink US policy on Afghanistan'
Rice praises Obama
Lenin statue blown up near Moscow
Belarus Silent on Reported Missile Talks With Russia
France urges Russia and US to end missile feud
EU, Russia Agree on New Partnership Talks and Financial Policy
EU-Russia Summit Hints At Geopolitical Rapprochement
Lithuania's President calls on the EU to demonstrate more solidarity
US advises EU to tread carefully with Russia
Baku energy summit mulls gas pipeline routes

NATURAL GAS IS THE NEW WEAPON IN THE CONFLICT
This "Nabucco Project" pipeline would bypass Russia—and cut deeply into its natural gas business
By February 20, 2009, the world will be rocked as Russian special forces, wearing Gazprom (OTC:OGZPY) security uniforms, will invade Ukraine to protect the natural gas pipeline into Europe. Russian stocks will plummet as skittish investors flee Moscow for good. But three companies stand to make a mint.
NABUCCO project depends on Turkmenistan
OMV (Austria) in talks with Shell, BP on Nabucco gas
Gazprom talks to Serbia behind closed doors

Zapatero to tout Spain's banking regulation at World Economic Crisis Summit
Spain not originally invited, but France gives seat
Greeting Card Company Unveils 'Atheist Christmas Cards'
Oh please, get yer own damn holiday ya sour MFers- how 'bout
Festivus
? Suits yez.

A storm of international protest is building over a Chinese ruling that a Muslim Uighur woman who is six months pregnant must have an abortion or lose her home
SIX MONTHS pregnant!

Diocese repudiates Catholic priest who said Obama supporters should not seek communion
Ex-Hitler youth issues dire warning to America
The inside story of a banking behemoth
Goldman Sachs has groomed politicians, more than one treasury secretary, and more than a few millionaires. But the history of the 139-year-old Wall Street giant has long been shrouded by "a near fetish for no publicity".

~ SNIP ~



He said: "We as a world society need a new financial system. "The problem is that we need an international system and there are only national governments."



Be afraid. Be very afraid.
Soros backs GWB
A "leading US expert" has said India could benefit from this economic meltdown
Naturally!
GM may need $30 billion in aid
Chevron to invest US$1 bln in Indonesia next year
5.23 - 68.3 miles ESE of Adak
5.6 - SOUTHEAST OF THE LOYALTY ISLANDS
Worlds most ancient temple unearthed on Turkish Syrian border
It's more than twice as old as the Pyramids, or even the written word. When it was built, saber-toothed tigers and woolly mammoths still roamed, and the Ice Age had just ended. The elaborate temple at Gobelki Tepe in southeastern Turkey, near the Syrian border, is staggeringly ancient: 11,500 years old, from a time just before humans learned to farm grains and domesticate animals.

According to the German archaeologist in charge of excavations at the site, it might be the birthplace of agriculture, of organized religion — of civilization itself. "This is the first human-built holy place," Klaus Schmidt of the German Archaeological Institute says in the November issue of Smithsonian magazine.

QUEEN
Now I'm Here
Now I'm here.....
Think I'll stay around