Deep Purple ~ 1972
Highway Star
The only difference between R & D today
is MPH & ETA
Obamanable Snowjobman is making James Jones his
National Security Advisor.
The NSA is the #1 advisor to the POTUS on all issues of national security. WhoTF is James Jones? Only one of the most rabidly pro-Islam Glow Balling MFers from the Bush Admin ~
General James L. Jones, United States Marine Corps
Supreme Allied Commander, Europe (SACEUR)
Commander of the United States European Command (COMUSEUCOM)
2007: James Jones: Appointed Special Envoy for Middle East Security

Uh Oh. He used to head NATO.....
AND:
He is on the board at CHEVRON

He is a Palestinian Partner!
10/14/08: "The framework for negotiating a final resolution of the conflict is before us," said Secretary Rice, who also promised to "leave no stone unturned" in her quest to create a two-state solution in the Middle East that would give Israelis a democratic partner in the region, Palestinians a free and independent country, and the region the power to build on the "potential of its people." She ended the morning by anticipating a world that can "finally put behind it this seminal conflict."
Oh yeah? Well I hereby promise to leave no turn unstoned in my quest too, ya MFers.
And he wants to put NATO forces in the West Bank
October:
US Middle East security coordinator James L. Jones, long expected to produce a document spelling out Israel's security needs after the creation of a Palestinian state, will not in the end present the
Bush administration with a large-scale report
September:
US Sends Jones to define Israel's Security Interests!
July:
General James Jones is preparing an extremely critical report of Israel
's policies in the territories and its attitude toward the Palestinian Authority's security services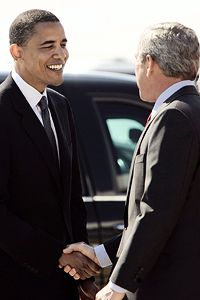 June:
General James Jones: Close Friend Of John McCain, Obama VP Candidate
March 2006:
DoD News Briefing with Gen. James L. Jones
A new joint Israeli-Palestinian industrial park will be built next year in the northern West Bank under the auspices of the American ambassador to Israel James Cunningham, the U.S. special envoy to the Mideast General James L. Jones and the U.S. Security Coordinator for Israel and the Palestinian Authority Keith Dayton, Israeli daily Haaretz quoted Army Radio as reporting on Monday.
Obama nominees signal radical pro-UN agenda
Obama rehires advisor who wants to invade Israel
A source familiar with the details says [Vice President-Elect Joe] Biden is privately pushing to install his longtime aide Tom Donilon as Jones's deputy." Tom was previously the Executive Vice President for Law and Policy at Fannie Mae.

One of Obama's top transition team members, Thomas Donilon
, oversaw an aggressive, backdoor lobbying campaign by mortgage giant Fannie Mae to undermine the credibility of a probe into the firm's accounting irregularities, according to a 2006 government report on the company.

Change? Same as it ever was ...
Pentagon to detail 20,000 troops inside US
The U.S. military expects to have 20,000 uniformed troops inside the United States by 2011 trained to help state and local officials respond to a nuclear terrorist attack or other domestic catastrophe, according to Pentagon officials.The long-planned shift in the Defense Department's role in homeland security was recently backed with funding and troop commitments after years of prodding by Congress and outside experts, defense analysts said.
Commentators in the Arab press highlight the "symbolic" nature of Mahmoud Abbas' appointment to a nominal post last held by Yasser Arafat
Absolute Lunacy:
Abramovich also discussed the Saudi peace initiative, referring to it positively and saying aspects of it should be taken into serious consideration.
Hamas forges ties with Israeli Arabs
Lebanon to recognize 'State of Palestine'

Queen Condi of the Amalekites forgets to mention Jewish victims of Mumbai
Mumbai: The Israelis suffered the harshest tortures
Mumbai terrorists funded by cash raised in UK mosques
ITALY:
An Egyptian-born writer who renounced Islam and was baptized by Pope Benedict XVI said Sunday that he has formed a political party that would enter candidates in next year's EU elections. Magdi Cristiano Allam said his "Protagonists for Christian Europe" party would work to defend Europe's Christian values, which he sees threatened by secularism and moral relativism. He said his new party would be open to people of all faiths and would be close to the conservative European People's Party.
LA Chabad mourns couple slain in Mumbai
UN, Saudis pushing for "Global Blasphemy Law"
A European Caliphate?

Never mind that , better watch out for the American Caliphate:
The Southern Center for International Studies, the Atlanta office of the Federal Bureau of Investigation and the Georgia Humanities Council were honored at the Istanbul Center's 6th annual Dialogue and Friendship Dinner.

The Southern Center was honored for its dedication to global awareness, the Atlanta bureau of the FBI for its commitment to community outreach and the Georgia Humanities Council for its contribution to education. The dinner was held on Nov. 13 at the Westin Hotel in Buckhead, and featured as the keynote speaker Andrew Young, former ambassador to the United Nations, mayor of Atlanta and member of the U.S. House of Representatives.

Nihat Ergun, deputy chairman of Turkey's ruling Justice and Development Party, also spoke at the event which was attended by a dozen representatives of Atlanta's consular community as well as local business and political officials.The dinner was held to promote dialogue and tolerance particularly between Christians and Muslims through a United Nations program titled the "Alliance of Civilizations."

The U.N. Alliance of Civilizations secretariat was created in 2005 by the governments of Spain and Turkey to combat prejudices and cultural and ideological polarization
Indian terrorists want Asian Caliphate
Muslim Propaganda
Iran proposes nuclear plants with Arab countries
EU calls for deeper ties with ex-Soviet states
Romanian election too close to call
Russia's return to our backyard
Volcano erupts in Kamchatka
Keep your eyes on Turkmenistan
Britain is considering joining the eurozone as a direct consequence of global financial turmoil, European Commission President Jose Manuel Barroso said Sunday.
Nigerian forces "impose peace" after deadly riots

Congo: Nkunda issuing ultimatums
Somali president: Saudi tanker to be freed without ransom
Thai protesters consolidate hold on airport
International Court on Global Warming
Where "Nations Will Be Punished"
International Climate Change Forum Opens in Poland
2700 year old mummy found with Holy Leaf
Pope May Change Catholic Mass
Stocks fall sharply after dour economic data
Evidence suggests CIA funded experiments at VT state hospital
Faith-Based Hospitals Could Close If Obama Signs Freedom of Choice Act

Another Barack in the Wall
Harvard to present Kennedy with honorary degree
Australians See Smiley Face in Night Sky

The Scorpions ~ 1974
Speedy's Coming