Dan Fogleberg
The Power of Gold

On June 19th of this year I ran this post:
Goldman Sachs Double Speak ~ 3 Wood
This was the article 3 Wood was commenting on in that post:
Hormats calls for U.S. global policy restructuring:
SAN FRANCISCO (MarketWatch) - As the world's economies become more globalized and the U.S. dollar competes with a stronger euro, America needs to restructure its global policies to attract more foreign capital, Robert Hormats, vice president of Goldman Sachs International, said Wednesday.

The next U.S. administration will need to make "important policy changes to take advantage of new global opportunities," Hormats said during a speech at an Asian banking and finance conference at the San Francisco Federal Reserve Bank.

Those changes include realizing the U.S. needs to accelerate improvements in its trade balance to reduce dependence on foreign money, boost competitiveness by reasserting the Doha Round global effort and be a leader in global policy creation, he said.

The collapse of U.S. domestic savings, compounded by a widening trade deficit and increased consumer borrowing, have contributed to U.S. dependence on foreign capital, Hormats said. "Exports are rising at a much more rapid rate than imports," Hormats said, citing that 95% of the world's consumers now are outside the U.S. "About one-third of the profits of S&P 500 companies come from activities abroad."

Hormats also said the Doha Development Round, a set of international negotiations to promote free world trade, is stalling, and the U.S. needs to take initiative to open global markets for goods and services.

"If this round falters, and I think in the current moment there's a good chance that it will ... then the U.S. and other trading nations would do well to devote their efforts to improving -- and ensuring firm adherence to --- existing rules and dispute settlement procedures," Hormats said. He said the U.S. needs to focus on improving itself economically, but it also should become a leader in crafting international economic policies.

"We have to give if we want to get, which means negotiations," he said, adding that "the changing global landscape demands new institutions, new patterns of cooperation within existing institutions and new ways of ensuring that greater cooperation among institutions take place when their responsibilities overlap."

Dig the language in it.
In hindsight you can clearly see they were telegraphing big time what was to come in October.
To remind you, Czar Paulson, his Igor, Kashkari & the current head of the World Bank, Zoellick, are all from Goldman.
SPLEEN SEARCH:
GOLDMAN SACHS
Many times since October I have said here that if you watch carefully what the Gold Man Sacks buys, sells, values, devalues, and publicly announces, you can accurately predict many future events and thus prepare for them.
Gold Man Sacks Missing Links for the past week or so:
Goldman Sachs, CDH invest nearly 100 mln usd in China's Himin Solar

Turkish markets firm, eyes on Goldman results
Goldman says investment in China will accelerate
Goldman's Stand in Japan Crumbles
Goldman, Deutsche Bank Are Said to Cut Jobs in Japan
Goldman Sachs sees oil at $30 a barrel in next three months
Goldman Sachs predicts fall in oil prices to $45 a barrel - not $200
Goldman Sachs turns bearish on oil in 2009
Barel Karsan: Goldman Sachs' Wonky Oil Predictions
Crude gives back 9% as US auto-rescue plan founders
Sector roundup: Utilities, auto parts suppliers
Valeo Rises on Goldman Sach's Upgrade
Goldman Sachs cuts Caterpillar to sell
Apple downgraded to neutral at Goldman Sachs
Bally Technologies Upgraded By Goldman Sachs
Goldman cuts AT&T to neutral
Telstra Drops as Goldman Sachs Cut Rating
Goldman Sachs upgrades Baidu.com
Goldman adds Viacom to conviction buy list

Goldman Sachs upgrades US Gaming sector to attractive
Goldman Sachs Poised to Sell Sanyo Stake to Panasonic
Goldman Sachs, economy, Best Buy, fertilizers
Goldman Sachs ups gold forecast on dollar view, haven appeal
Investors focusing on energy, currency and rates
Default won't bring an end to dollarization, Goldman Sachs' Ramos said
dollarization?
Goldman, AT&T 'Apologize' to Democrats With Post-Election Gifts

Goldman Sachs cites global recession, new-product pause
Goldman, The Fed, The Future and ETFs
US Stocks Advance on Rate-Cut Speculation; GE, Goldman Gain
ADRs surge after US rate cut, Goldman
Big Loss For Goldman Sachs

Goldman Sachs workers net $2.6bn bonuses despite losses
Goldman's Loss Is Europe's Gain
Only One Bank Cites a Loan From TARP Money
Moody's cut Goldman Sachs ratings one notch to "A1"
Goldman Sachs's Tax Rate Drops to 1%, or $14 Million
Who Aided And Abetted Madoff, Mr. Ponzi?
Goldman Sachs Outlines 2009 Financial & Credit Expectations
Once again, 'follow the money'
Advent and Eschaton and Apocalypse
Spandau Ballet
Gold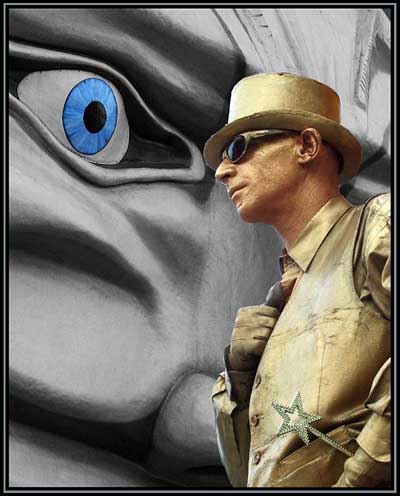 Former Goldman Sachs official Gensler to be CFTC head
'Financial regulatory reform will be a top priority of mine.'
— President-elect Barack Obama
Zero - Goldman Sachs, Federal Reserve, Depression, Stocks
Paulson Takes Lead in Auto Rescue Talks
Gold Man advises on Arab banking merger
ARAB BANKERS ASSOCIATION OF AMERICA:
OK... WHOTF IS DAVID LEUSHEN?

Mr. Leuschen is a Founder and Managing Director of Riverstone. Mr. Leuschen has extensive M&A, financing and investing experience in the energy and power sector. Prior to founding Riverstone, Mr. Leuschen was a Partner and Managing Director at Goldman Sachs and founder and head of the Goldman Sachs Global Energy & Power Group.
Mr. Leuschen joined Goldman Sachs in 1977, became head of the Global Energy & Power Group in 1985, became a Partner of the firm in 1986 and remained with the firm until leaving to found Riverstone. Mr. Leuschen was responsible for building the Goldman Sachs energy and power investment banking practice into one of the leading franchises in the global energy and power industry. During this period, Mr. Leuschen and his team participated in a large number of the major energy and power M&A transactions worldwide. Mr. Leuschen also was a founder of Goldman Sachs' leading Master Limited Partnership franchise.
Mr. Leuschen also served as Chairman of the Goldman Sachs Energy Investment Committee, where he was responsible for screening potential private equity capital commitments by Goldman Sachs in the energy and power industry. Further, Mr. Leuschen was responsible for establishing and managing the firm's relationships with senior executives from leading companies in all segments of the energy and power industry, including Amerada Hess, Anadarko Petroleum, Apache, BP Amoco, Chevron, Cross Timbers, ENI, Kinder Morgan, Koch Industries, Kuwait Petroleum, Lasmo, Mobil, Phillips, PDVSA, Union Pacific Resources, Santa Fe International, Transocean SedcoForex, Unocal, and many others. Mr. Leuschen has served as a Director of Cambridge Energy Research Associates, Cross Timbers Oil Company, J. Aron Resources, Mega Energy, Inc. and Natural Meats Montana. He currently serves on the board of directors of Belden and Blake Corporation, Mariner Energy, Inc., Seabulk International, Inc., Frontier Drilling ASA and Mega Energy LLC.
He is also president of Switchback Ranch LLC and has served on a number of nonprofit boards of directors. Mr. Leuschen received his A.B. degree from Dartmouth and his M.B.A. from Dartmouth's Amos Tuck School of Business.