Brother Can You Spare a Dime?
Bing Crosby

A consensus is forming that the economy is now in the middle of the recession.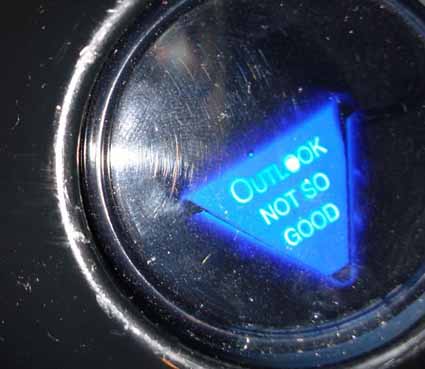 Worst of recession upon us, forecasters say
:
"WASHINGTON (MarketWatch) -- After several months of a relatively mild contraction, the U.S. economy has now fallen into a really nasty recession, according to top forecasters at IHS Global Insight.

"We are in the worst part of the recession now," said Brian Bethune, an economist for Global Insight. Bethune and his colleague Nigel Gault have won their second consecutive Forecaster of the Month award from MarketWatch, based on their predictions on 10 key economic indicators in November."
What that means is, the bad news will keep coming for a while, the the outright shocks should be over. The market is starting to get it's head wrapped around the situation. So do the next few months hold?
Looking ahead, the pair of economists thinks the December payrolls report will probably be "another very bad number," although no one's predicting another 500,000 job loss.
"We've got to anticipate that firms are struggling to cut back staffing as rapidly as possible," Gault said.

The job losses are coming from everywhere, from construction and manufacturing, and from financial services and retailing.

"The shakeout in financial services will take several more months," Bethune said. The people losing jobs in financial services industries may have never been laid off before, he said, and many of them don't have the ability to quickly adapt to the informal sector.


Construction workers may be able to get work that's paid under the table, or to barter their services, but no one needs the services of an investment banker in exchange for a haircut or a tune-up.


Those investment bankers will have to think of something, however, because the industry is "permanently downsizing," Bethune said.
Bethune said it's important for the Federal Reserve to keep lowering rates and flooding the economy with money. With the economy weakening so rapidly, "there's no use leaving any ammunition in the bunker."
The general view is that we should start seeing a turn around in about 6 to 9 months. As I have been saying for some time, when it does turn around, look out for very high inflation. With all the money that has been pumped into the banking system, once things start rolling again the economy will expand (based on the multiplier theory) about 10 times the amount of money that was injected. We will quickly outgrow our production capacity and the result will be high inflation.
~

3 WOOD

Brother Can You Spare a Dime?
Al Jolson