Eurythmics
Would I Lie To You?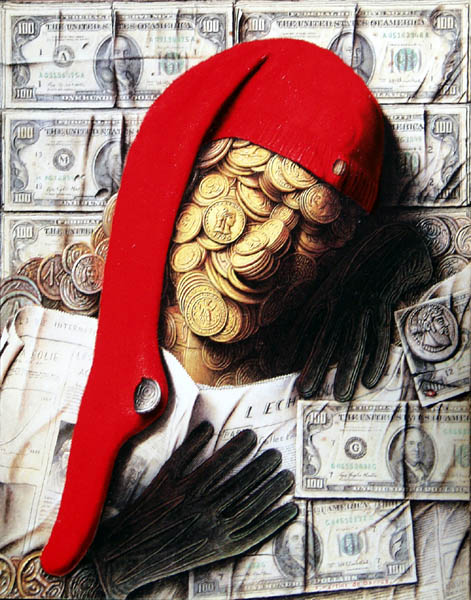 I have long been predicting a second wave of credit defaults and here it comes, along with the bail out by Paulson:
Fed unveils $200 billion plan to buttress consumer lending
"NEW YORK (MarketWatch) -- The Federal Reserve on Tuesday unveiled its new Term Asset-Backed Securities Loan Facility (TALF), a plan under which it will lend up to $200 billion to support the issuance of debt backed by consumer and small business debt like credit card loans, student debt, auto loans and loans backed by the Small Business Administration (SBA). The Fed hopes the plan will create liquidity in the market for securities backed by the receivables from such loans, which in turn would encourage originators of consumer loans to restart lending to individuals. "The ABS markets historically have funded a substantial share of consumer credit and SBA-guaranteed small business loans," the Fed said in a press release. "The TALF is designed to increase credit availability and support economic activity by facilitating renewed issuance of consumer and small business ABS at more normal interest rate spreads," it concluded"

Upshot is, now that the layoffs and economic contraction is hitting, folks are now defaulting on their credit card bills and other consumer debt. Paulson, following his "in for a penny, in for a pound" philosophy, is creating the above facility and trying to paint it as a way to loosen up new lending.
We are going to see a period of deflation and economic contraction. At the same time the new administration will spend money like the Russians just landed in Miami trying to spend our way out of this and prop up his voting blocks. When the economy finally turns around and moves up, look for inflation to ignite due to all the spending and expansionary actions.
I see double digit unemployment and inflation coming.
~ 3 WOOD
From the Spleen Files:
Fed Commits $800 Billion More to Unfreeze Lending (Update1)
Lawrence H. Summers to Head National Economic Council
Summers was on the staff of the Council of Economic Advisers under President Reagan from 1982-1983. He also served as an economic adviser to the Dukakis Presidential campaign in 1988.

Summers left Harvard in 1991 and served as Chief Economist for the World Bank until 1993, when he was appointed Undersecretary for International Affairs and later in the United States Department of the Treasury under the Clinton administration. In 1995, he was promoted to Deputy Secretary of the Treasury under his long-time political mentor Robert Rubin.

In 1999, he succeeded Rubin as Secretary of the Treasury. He left the Treasury in 2001 and returned to Harvard as its President. Summers served as the 27th President of Harvard University from July 2001 until June 2006.

In 2006 he was a member of the Panel of Eminent Persons which reviewed the work of The United Nations Conference on Trade and Development or UNCTAD.

Summers is an ardent proponent of free trade and globalization, and frequently takes positions on a number of politically-charged subjects. This, along with his direct style of management, made him controversial as President of Harvard.

In December 1991, while at the World Bank, Summers signed a memo written by staff economist Lant Pritchett which argued among other things (according to its author; the full memo is not public) that free trade would not necessarily benefit the environment in developing countries. Pritchett also drafted what he referred to as an ironic aside to the memo which Summers also signed. The aside was leaked to the press and stated that, developed countries ought to export more pollution to developing countries because these countries would incur the lowest cost from the pollution in terms of lost wages of people made ill or killed by the pollution due to the fact that wages are so low in developing countries. The aside went on to state that "the economic logic behind dumping a load of toxic waste in the lowest wage country is impeccable and we should face up to that"

Harvard and Andrei Shleifer, a close friend and protege of Summers, settled a $26M lawsuit by the U.S. government over the conflict of interest Shleifer had while advising Russia's privatisation program. Summers' continued support for Shleifer strengthened Summers' unpopularity with other professors:

"I've been a member of this Faculty for over 45 years, and I am no longer easily shocked," is how Frederick H. Abernathy, the McKay professor of mechanical engineering, began his biting comments about the Shleifer case at Tuesday's fiery Faculty meeting. But, Abernathy continued, "I was deeply shocked and disappointed by the actions of this University" in the Shleifer affair.

In an 18,000-word article in Institutional Investor (January, 2006), the magazine detailed Shleifer's alleged efforts to use his inside knowledge of and sway over the Russian economy in order to make lucrative personal investments, all while leading a Harvard group, advising the Russian government, that was under contract with the U.S. The article suggests that Summers shielded his fellow economist from disciplinary action by the University.[23] However, the case actually was filed in 2000, the year before Summers became Harvard's president. Summers' friendship with Shleifer was well known by the Corporation when it selected him to succeed Rudenstine and Summers recused himself from all proceedings with Shleifer, whose case was actually handled by an independent committee led by Derek Bok.